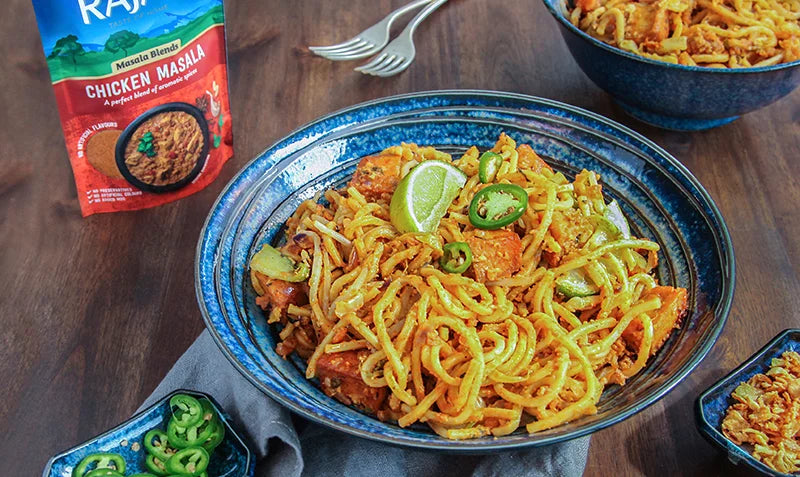 Ingredients
For the paste:
1 tbsp Rajah Chicken Masala
2 tsp chilli powder
2 tbsp tomato ketchup
1 tbsp red chilli sauce
1 tbsp vegetarian oyster sauce
1/3 cup of water
For the fritters:
65g plain flour
65g rice flour
2 tbsp cornflour
1/2 tsp dry yeast
1 tsp baking powder
A pinch of sugar
A pinch of salt
150-200ml water
Vegetable oil for deep frying
For the noodles:
Firm tofu - cut into cubes and deep fry till crispy and golden brown
1/4 cup shredded cabbage
1 cup of bean sprouts, tailed and cleaned
1 tomato, quartered
300g fresh or dry yellow egg noodles, blanched according to packaging
1 packet of bok choy, cut into 2-inch pieces, stalks and leaves separated
2 eggs
4 tbsp of oil
1 tbsp sweet soya sauce
Salt and sugar to taste
Other ingredients
3 garlic cloves, minced
1 small shallot, thinly sliced
Red chillies, thinly sliced
Crispy shallots
Lime wedges
Method
Firstly, create the fritters. Combine all the dry ingredients and once well mixed, gradually add your water until you get a lumpy batter. Set aside and allow the yeast and baking powder to work their magic.
Heat enough oil in a wok for deep frying. Add a few spoonfuls of batter into hot oil and fry until golden brown. Repeat until all the mixture is used. Drain the oil and cut the fritters into bite-sized pieces. Set aside.
Heat some oil in a large wok and add your shallots and garlic. Fry until fragrant.
Add the spice paste and fry for another 2 minutes.
Add the fried tofu cubes, the fritters and the bok choy. Stir and cook for one more minute.
Add the noodle and stir to mix. Now, push the noodles to the side of the wok, crack in the eggs and quickly scramble them. Bring the noodles back to the centre of the wok and combine. Add your bok choy leaves and beansprouts. Fry for one more minute until the ingredients are well mixed and the noodles are dry. Garnish with sliced chillies and crispy shallots. Serve immediately.
Regular price

Sale price

£1.50

Unit price

per

Regular price

Sale price

From £1.50

Unit price

per

Regular price

Sale price

From £1.50

Unit price

per